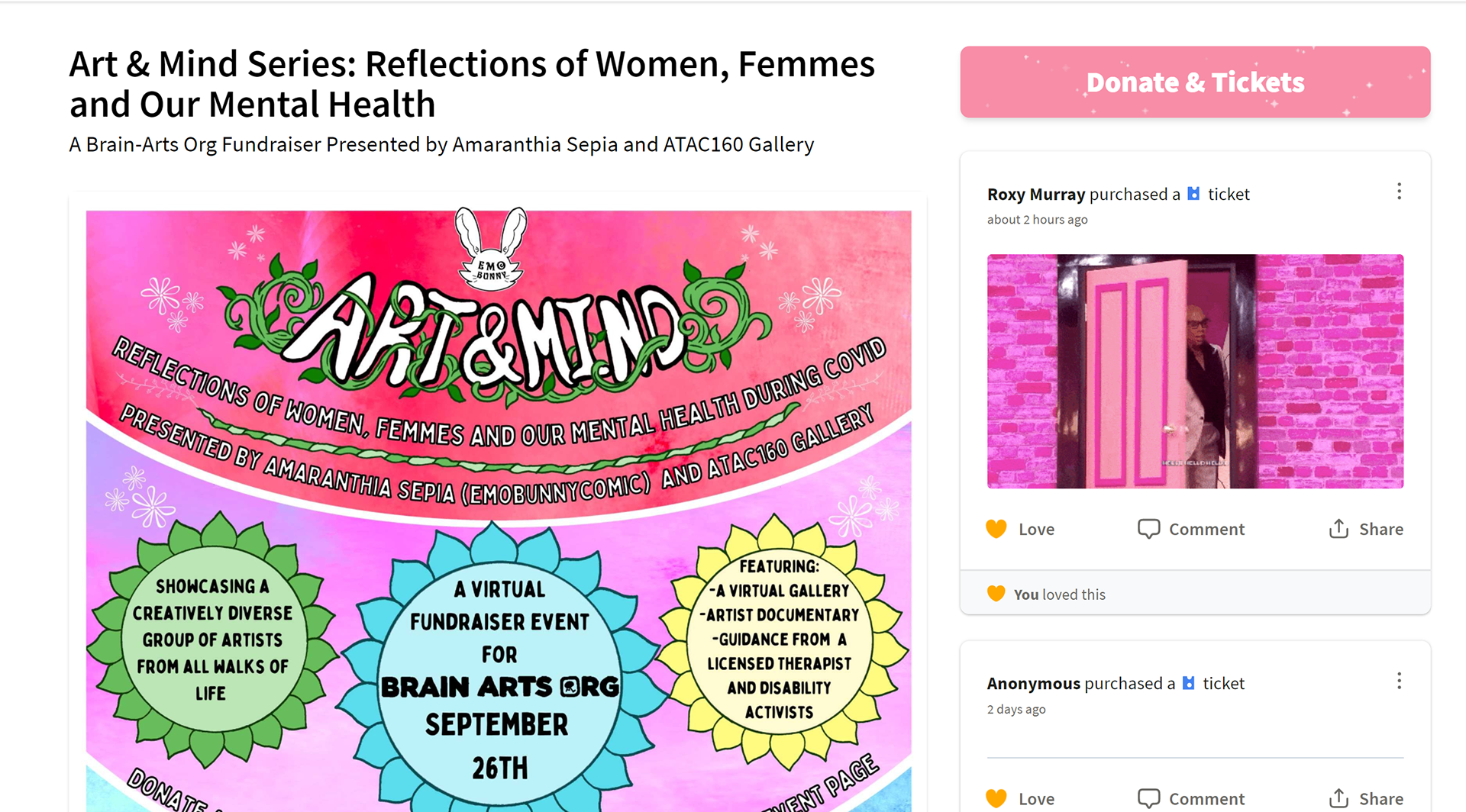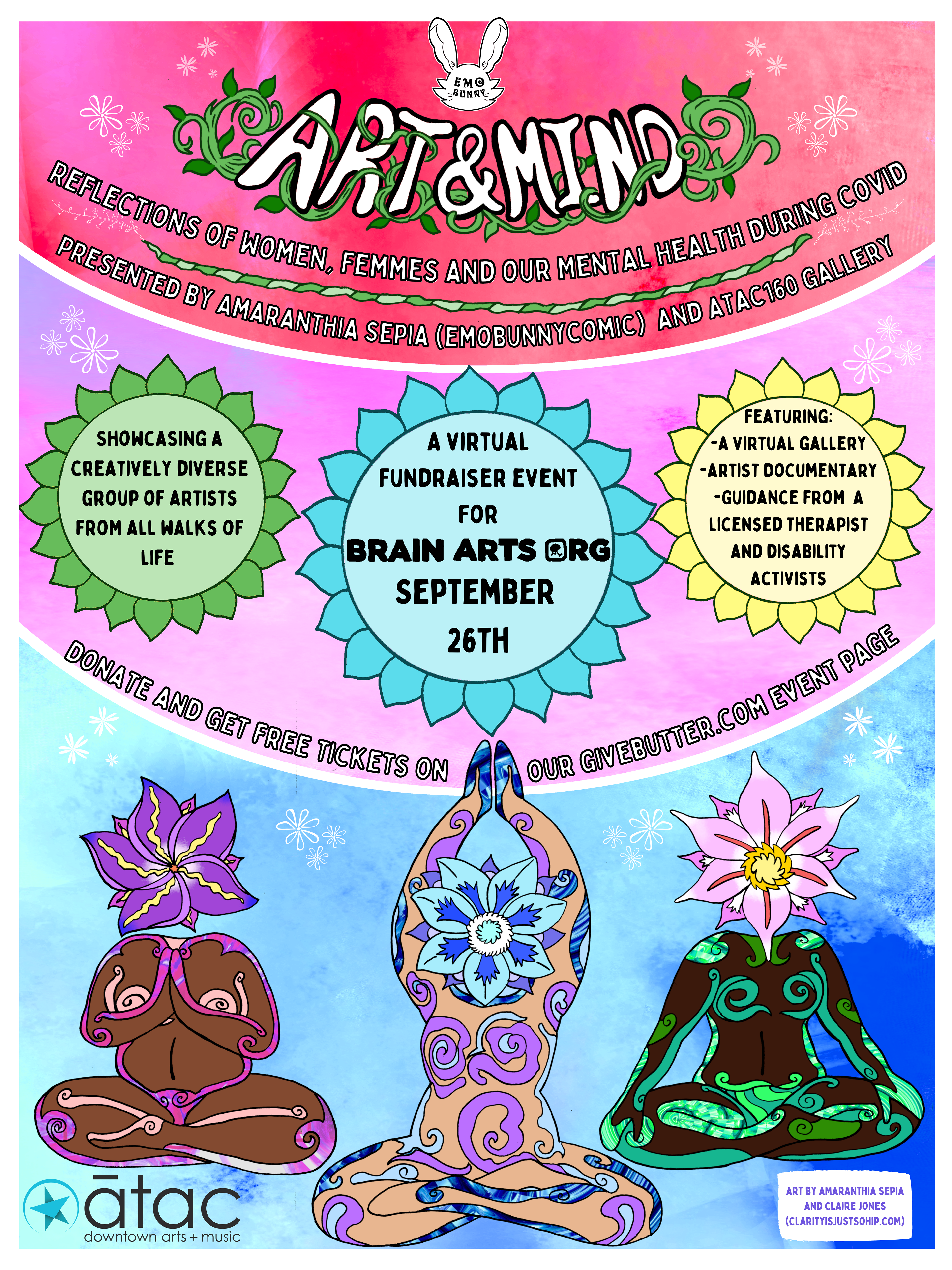 My passion is to provide an accessible virtual art gallery platform for
marginalized people, particularly POC, WOC, and disabled creatives through my project, "Art & Mind" I'm a Black, invisibly disabled Art Coordinator and have faced discrimination in the art gallery world due to being a minority and creating unconventional activist artworks. Since 2020 I've been involved in developing activist art shows. From age 14-16, I did solo anti-bullying art exhibits titled "I'm Proud of Who I Am."  to cope with bullying and racial discrimination with the help of my Mom, Claire Jones (clarityisjustsohip.com), who is a writer creative, and mental health advocate. We deal with invisible disabilities and face discrimination for our work that highlights race, misogyny, mental illness, and domestic violence. Together, we hope to make this platform, so other POC/WOC/disabled folks can have a home for artwork highlighting radical anti-stigma artworks usually shunned by society.
The first in this series is titled
"Art & Mind: Reflections of Women, Femmes and Our Mental Health During COVID",
which will premiere as a virtual art show and charity fundraiser
with
Brain-Arts org on
 Sunday, September 26th @ 5pm EST and hosted virtually by 
Atac160 Gallery
in Framingham, MA.
​​​​​​​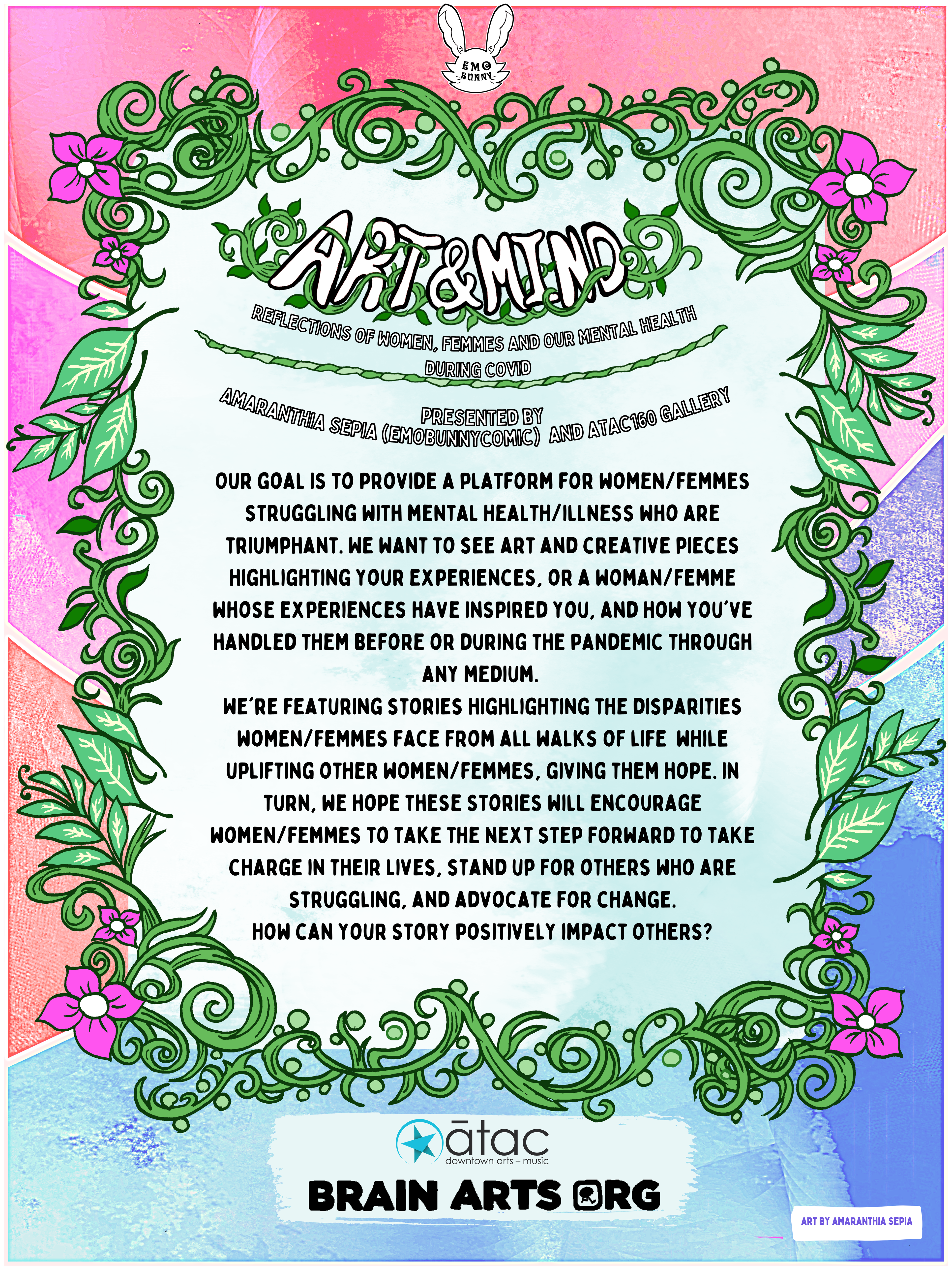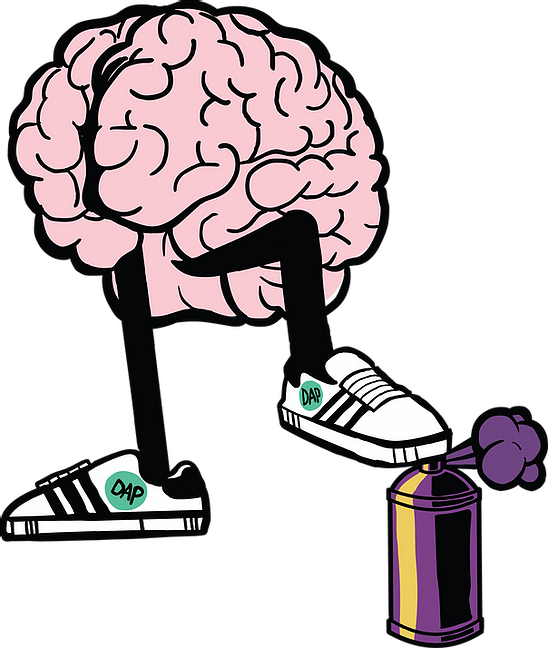 Featured Artists for
"Art & Mind: Reflections of Women, Femmes and Our Mental Health During COVID"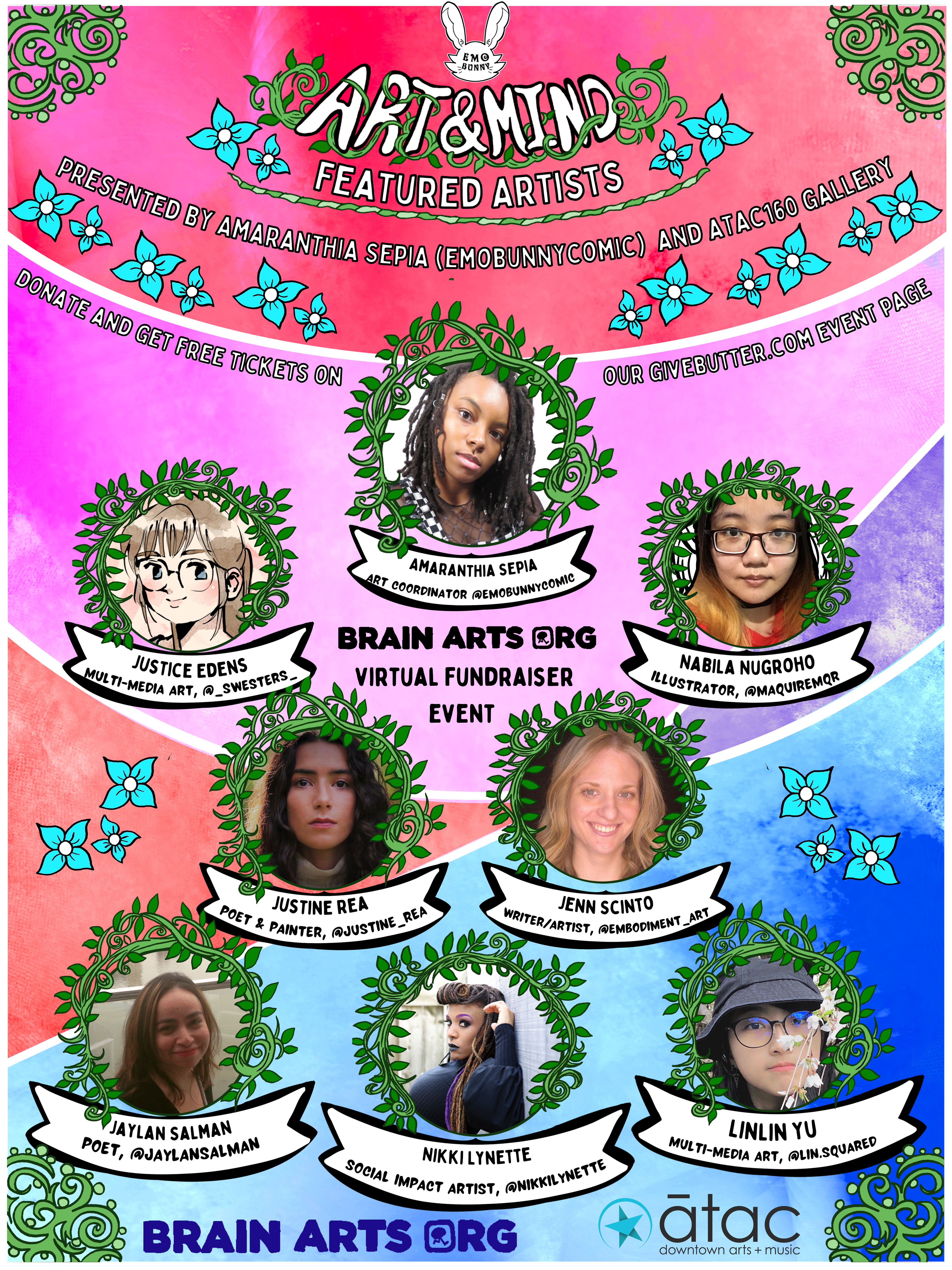 Introduction: ATAC160 Venue Team, Brain-Arts Org, Volunteers, Assistants and Founder Introduced - 10 minutes
Documentary Format: 8 Artists Showcase their videos about their work and their story - 20+ minutes
Artists Speak, Introduce Themselves, Artists have a Q & A with the audience, moderators will lead - 10 to 15 minutes

Our therapist, Dulce Orozco, speaks - 10 to 15 minutes
Q&A: Therapist & Everyone
Brain-Arts Org Charity Highlighted
Mya Byrne, trans-femme activist musician speaks and plays a song - 6-10 minutes
Mental health business/activist guests are showcased - TBD
Roxy Murray, MS advocate speaks about accessibility in the arts - 6-10 minutes
Video on The Future of Art & Mind
Close with Brain-Arts being highlighted again + a meditation/breathing practice
Why is
"Art & Mind: Reflections of Women, Femmes and Our Mental Health During COVID"
Important?
Last year, when our lives came to a halt due to the mysterious and all-consuming virus, COVID-19, many became secluded, isolated, fearful, depressed, and anxious. What would the future hold for us - Is there any future? With the ongoing mental health crisis in the USA, how will the suffering and underserved cope with lack of access, socialization, and routine? Unfortunately, these issues have caused harmful consequences and have exacerbated existing ones for women.
 
The NYT states the U.S. unemployment rate dropped to 7.9% in September 2020 – it was previously 15% in April. This drop is due to 1.1 million Americans age 20+ leaving the workforce. Out of 1.1 million, 800,000 women quit the workforce. 324,000 Latinas and 58,000 Black women left. Out of 40,000 women in corporate America, 1 in 4 considered resigning/downshifting. The societal pressure of women expected to undertake caregiving for children and family worsens the crisis.
 
According to swhr.org, women of color are overrepresented in industries that have experienced the most significant job losses, like hospitality and childcare. Most likely, they are essential workers. Among those stuck at home, some are in abusive situations. Unwomen.org highlights domestic violence as the "Shadow Pandemic," as it intensified during covid-19. Before Covid, 1 in 3 women experienced sexual or physical violence, mainly from a partner. Certain countries are focusing only on Covid and stopped looking into this crisis.
 
Out of 10,000 women surveyed by CARE International, 27% reported increased struggling with mental illness. Unpaid labor and the wage gap were significant reasons. Women are twice as likely to say they cannot access health care. A survey from the Total Brain via axiawh.com states that 83% of women vs. 36% of men report a significant increase in depression.
 
Covid has postponed gender-affirming treatment for transgender people. Columbia Psychiatry highlights how delays have prolonged mental health issues. Social isolation closes the in-person networks that trans people use to seek support outside of transphobic relatives. Trans women in America experience high rates of depression, stigma, and suicide. BMC's Public Health article reports that in Atlanta, transgender suicidal ideation was said to be 33%. This was associated with sexual, verbal, familial, and stranger abuse. The U.S. Trans Survey found that 40% of transwomen attempt suicide.


The Guidelines for Our September 2021 Show
- Any art genre/medium is accepted, including poetry. Poetry must be superimposed over original artwork or photography. 

- Artworks that are teaching others about a statistic, study, or personal experience that women/femmes face (racism, misogyny, trans-misogyny, misogynoir, micro-aggressions, sexual harassment/assault, ableism against women/femmes)

- We require trigger warnings for artworks, writing, music etc. that discuss suicide, sexual assault/harassment, etc

- Works must have a description/ story behind it that encourages women/femmes to overcome and advocate for change

- Cultural appropriation/appropriation or inappropriate glorification/trauma porn of trauma that isn't the artist's own experience

- Death threats towards a group or singular person (the art is acceptable if it's highlighting your own experiences with threats/death threats)

- No hate against minority groups such as ethnic minorities, LGBTQ+ people, disabled people etc.

- No stealing art. If the art is inspired by something else, please give credit in its description.
A Breakdown of the Project